Just picked up two new bizarro Diamine inks to make a set of four out of the two I'd gotten some time back.  These are made in Liverpool like all Diamine inks - but these started out as being exclusively for a German Pen Shop.  Now you can get 'em on Amazon.  
These are made to produce sheen.  Extreme sheen.  Not that anything can outdo Organic Studio "Nitrogen" - very likely the most easily sheeting ink on the planet...nearly with any pen on any paper.  Amazing stuff.  If you don't have a bottle, you really do need one.
What is "sheen"?
https://fountainpenlove.com/fountain-pen-ink/what-is-sheen-in-fountain-pen-ink/
Here's the four...all Diamine.  They are $7.50/30ml on Amazon.
November Rain (gorgeous deep green with crimson sheen)
Skull and Roses (dark blue with red sheen)
Smoke on the Water (dark emerald with shiny pink sheen)
Purple Rain (rich purple with metallic gold sheen)
Here are some pics.  Keep in mind that they will do wildly different things on different papers.  Most often a significant amount of liquid ink needs to sit on and dry on the paper's surface.  So absorbent paper is out...paper like Tomoe River or maybe coated stock of some kind is best.
Anyway...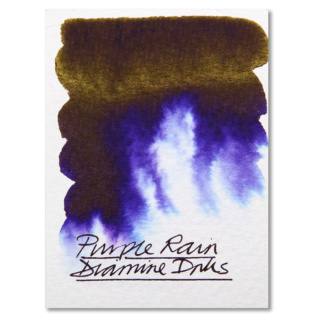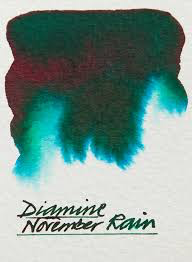 _________________
Council Member, Trading Post & General Site Moderator.
Founding BoB Bombers Squadron Commander, Un-Ret