Finally I can post up...it's been a crazy busy weekend/week, but I've found time to slip in a few manhattans over the course of the past few days.
So I picked up a bottle of Sazerac Straight Rye (aged six years, but also available aged 18 years) on Friday night. I searched high and low for morello cherries however none of the local markets had them (I know they are not in season) and the nearest Trader Joes was 45 min away. Against my better judgment, I opted for the standard maraschinos and soaked them in filtered water, emptied, soaked, and repeated about 4 times until a good portion of the sweetness was diminished. I let them air dry for a while then reintroduced half of them to a jar with sweet vermouth and the other half to a jar of Sandemans Reserve Port. I let those marinate overnight and on Saturday I mixed up a manhattan to test out the new rye.
I mixed about 1.5 oz of Sazerac Rye, 2/3oz of sweet vermouth (Noilly Prat), a dash and a half of bitters, and a generous twist of Cara Cara Orange peel (delicious oranges if you can get your hands on some). Of course, the obligatory cherry was pulled from the vermouth jar and added to the mix.
I chilled a martini glass, let the rye, vermouth and bitters chill in a shaker with ice, lightly stirred, then introduced the liquid to the glass and added the orange and cherry.
This, my friends, is a great manhattan. The Sazerac is delightfully peppery without being overly pronounced. It lends itself well to mixing and seemed to meld perfectly with the other ingredients. There was not one characteristic that popped more than the other, all the while still allowing for the individual strengths of each ingredient to shine equally. In fact, the rye mixed so well, I added a little more the next night to my manhattan but much to my dismay, as it overpowered the other ingredients this time around. This rye demands to be mixed strictly as a manhattan should. Let's say it shines without shadowing when mixed appropriately. Your mouth watering yet? It should be. Moving on...
Before mixing the manhattan, I tasted the Sazerac neat, and again with an added ice cube (I prefer my drinks this way plus I like how as the cube melts it opens up some of the subtle characteristics of the rye/bourbon/scotch etc...). The Sazerac has a wonderful nose of honey, cream, some apple/pear notes, even subtle chocolate notes and of course the obvious wood like/campfire char smell. The taste is much smoother and creamier than I would have expected of a 90 proof rye and leaves a tingle on the tongue but in an extremely pleasant way. Think of enjoying a really nice hot sauce with sour cream to cool your palate and letting the flavor of the pepper really well up in your mouth. This is good rye. It is somewhat understated when drinking by itself though, but seems to need a few friends to really make it pop, hence the manhattan really letting this rye show it's strength. I highly recommend Sazerac and at $20 a bottle, you can't go wrong. I look forward to picking up the 18 Year Sazerac, which at around $45 is quite a steal if it stands up to my expectations. We will see...
A quick snap of my Saturday evening libation...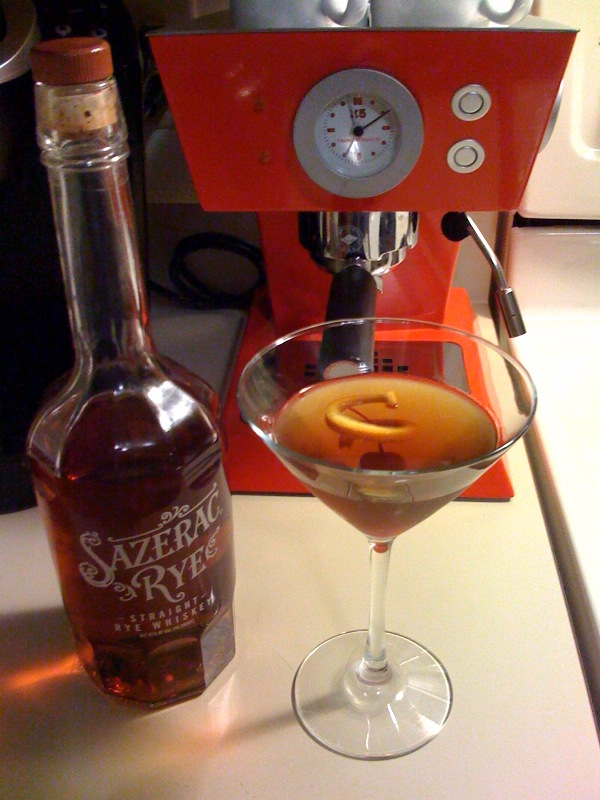 -Adam