One of our cats apparently went on a snipe hunt the other nite.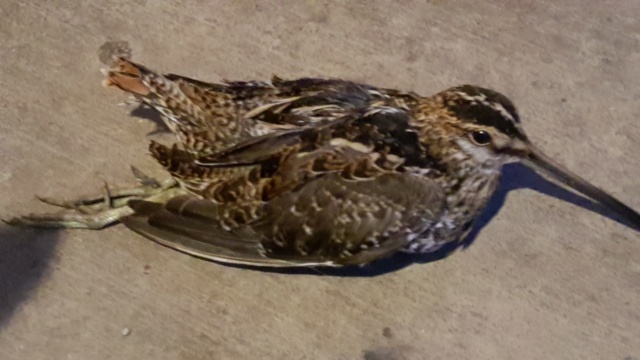 Not only did he find one, but he brought it back alive and left it on our door step.  I was impressed to say the least.
As a blood thirsty little heathen growing up on a ranch, I burned through Lord only knows how many shot gun shells trying to bag one of these elusive buggers.  I knew they were considered a game bird, and therefore rationalized they must be good to eat.  Fortunately, my  legendary wing shooting abilities and the snipes predisposition for high speed erratic flight patterns resulted in no snipes being hurt in any of my attempts to broaden my culinary horizons.  
I gathered the snipe off the door step in a dish towel, and after letting the wife and kids get a good look at him  (
look with your eyes, not your hands!)
turned him over to a local wildlife rescue organization for antibiotics and release back into the wild.