Joined

May 15, 2019
Messages

123
Reaction score

1
A good friend gave up smoking and handed me a box filled with the following. Just took inventory this morning...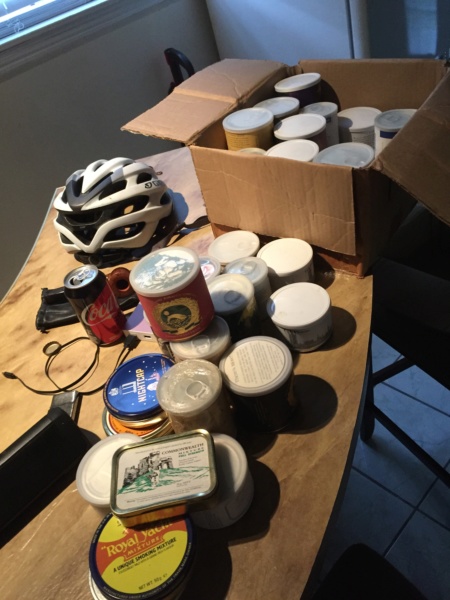 3 oaks Syrian, 5 t, 1 cellaring
Briggs London Blend
C&D Small Batch Sansepolcro 2t, 1 cellaring
Dunhill Royal Yacht, 3t
Nightap
Escudo
GL Pease Westminster, 10 t, 1 c
Abingdon, 4 t
Odyssey. 2t
Cairo, 2t
Caravan
Sextant 2t
Gaslighter 2t
Quiet Nights
McClelland! Bombay Extra '99
Xmas Cheer '03
Rose of Latakia
Frog Morton Across the Pond '04
On the Bayou '03
Syrian Full Balkan '04
Murdoch's Pipe
Plum Pudding Special Reserve 1t, 1 cellaring
Presbyterian 3t
Rattray's Highland Tobacco 2t
Rattray's Red Raparee Tobacco
Needless to say he is now a great friend.
Escudo, Presbyterian and the small batch I bought. Opened the old Westminster and it smoked smooth and glorious.