Joined

Oct 9, 2008
Messages

300
Reaction score

0
I used to wear Doc's all the time as influenced by my older brother growing up. Loved the sturdy construction and once broken in, they fit like a glove. So about three weeks ago I bought myself a good ol' pair of Doc Martens for the first time in about 5 years. After a week, something seemed different about em and they seemed to lack that "je ne sais quoi" about them that I remember. I come to find out that these UK classic boots are now made in a factory in China (I have nothing against the Chinese, just the crappy corporations that take the soul outta their products by outsourcing the labor/materials to another country).
This led me to start doing some research and if I cant return these Chinese Doc's, I'll be selling them on Craigslist. But now I am looking for a really great quality, classic American made dress boot for daily wear. Something I can tramp through the winter pounded streets of Manchester, NH with, and also make an impression while at the office and with clients. I want something hand crafted, with quality leather. A boot that needs to be broken in to mold to the shape of your foot, and something that will last me the better half of a decade and that I can bring to a cobbler to have it resoled if needed. I want something that my boy can look at and see it ooze with quality, and remember that "old pair of boots my old man used to wear".
So far I have narrowed it down to a pair of Red Wing Gentleman Traveler's. (style No. 9014 in black). We have a Red Wing store that's been in Manchester for years and years and I have never set foot in, (no puns). I don't mind spending the $$$ on boots like these if I know they are built to hold up and last the way shoes used to be made.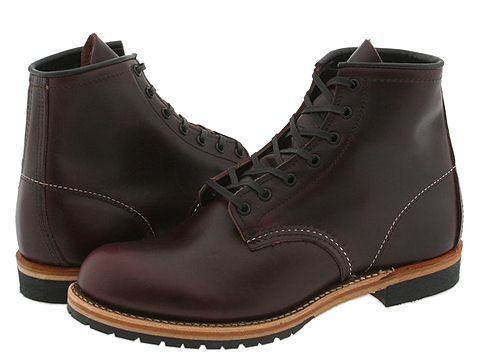 Anyone have any good experience with Red Wings, or other brands of similar build quality? I have heard good things about Whites as well.
-Adam