Joined

Feb 23, 2012
Messages

789
Reaction score

0
Last night I tried my winter setup for the first time. I expected to be chilly, but this setup outperformed my expectations!
(This is by no means a lightweight setup, more like a base camp/day hike list).
This test was done beside my house just in case it got too cold.
Here's my gear list;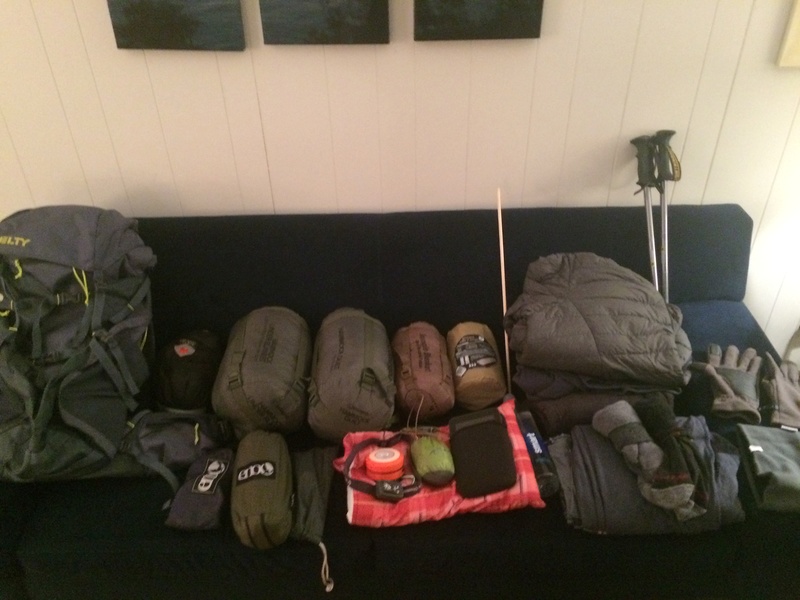 -Kelty Catalyst 65
-Grand Trunk Skeeter Beeter Pro
-Snugpak Underquilt
-Snugpak Topquilt
-Snugpak Jungle Blanket
-Klymit Insulated Static V (Recon)
-ENO Atlas Straps
-Modified ENO Profly
-Stakes for Fly
-Black Diamond Spot
-Ivation Collapsible Lantern/Charger (Hanging from my Ridge Line)
-Old Camping Pillow from Wally World
-Sea-to-Summit Aeros Pillow Premium (Large)
-Since I'm right outside of my house, I brought my 7" Samsung Tablet and Tough Tested Ranger Headphones. Nothing better than streaming movies outside in 19º F weather.
-1l Smart Water Bottle
-(2) Mountainsmith Pinnacle Trekking poles (To turn tarp into porch mode).
Items I wore were;
-Run of the mill Columbia Beanie
-Turtle Fur Fleece Neck Warmer with Head Cover
-Coldpruf Base layer Top (Merino Wool Blend)
-Columbia Fleece
-Hawke & Co. Duck Down jacket with hood (Ended up stuffing down in the footbox of my quilt)
-Columbia Omni-Heat Gloves (Put them on for about 1 hour, then stuffed them into my pocket)
-Exofficio Mens Give-n-Go Boxer Briefs
-Coldpruf Base Layer Bottoms (Merino Wool Blend)
-Old Pajama Pants, (Didn't want the old neighbor lady to see me walking around in the middle of the night in the snow in "Long Underwear").
-Darn Tough Hiking Socks
-Mountain Warehouse Merino Wool Socks
So my wife made me a big dinner, and we watched a movie with some bourbon and popcorn. At 11 Pm, I picked up my Kelty pack, and went to my predestined spot beside my house. At this time, it was about 24º F. It took me about 20 Minutes to completely set up my sleep system, using the awesome Red Light setting on my Black Diamond Headlamp so to not disturb my neighbors. Gave my wife a good night kiss, then went out to get situated. Before getting comfortable, I had to work on covering a few cold spots. My lower back was pretty cold, but my feet were sweating. (Wearing two pairs of Merino Wool Socks was not a good idea). After getting the Jungle Blanket and Topquilt in place I felt snuggled right in.
(Before the movie, I had to take off my beanie because my head was sweating).
I listened to some music, texted my wife, and watched a movie before turning in. At about 1:30 Am, the temperature was at about 19º F. That's when I was feeling it, and had to put the gloves and Turtle Fur on.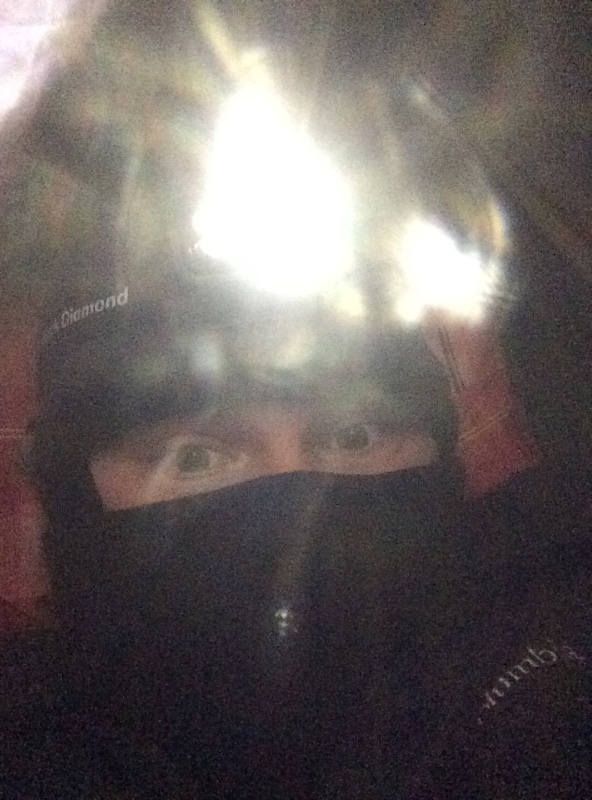 As I was just about to fall asleep; comforted by the sound of the Lake Effect Snow hitting my tarp, and the slight breeze rocking my hammock, creating a creaking noise where my suspension system was rubbing on the tree, a small herd of drunk 20-somethings walked outside of the apartment complex across the street from my house all for a smoke break. Kinda ticked-off after being woken up from a half sleep by slamming doors, after one of them screamed at the top of their lungs, "D*MN IT'S COLD OUT HERE", I yelled back, "YOU HAVE NO FREAKIN' IDEA!". So they shut up after that, and retreated back indoors. 20 minutes after this, I actually fell asleep; surprisingly for quite a while. At about 5:15 Am I woke up to snow plows scraping the roads 30 feet from where I was sleeping. After climbing out to water the lawn and climbing back in, I felt pretty awake, so I started another movie. It was snowing pretty hard at this point so I was having to hit the sides of my tarp every 15 minutes or so. Halfway through I fell asleep to wake up at 8:00 Am. I laid around for another half of an hour and then climbed out to pack up. The thermometer said 30º F.
(Found my slippers covered in snow)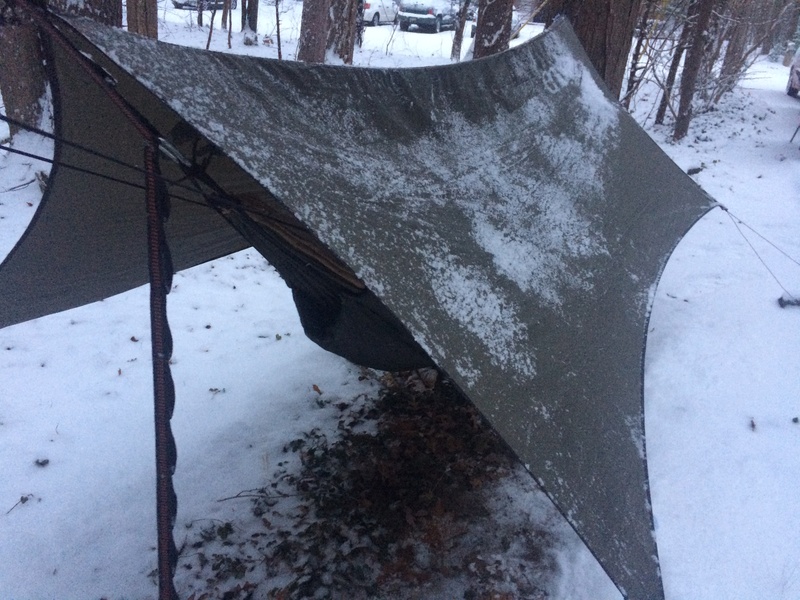 Everything stayed pretty solid, but I noticed I'm going to have to find a different type of cord for my Continuous Ridge Line besides 550 Paracord. It really stretched out over the night, allowing a lot of slack in my tarp. Also, I'll have to figure out a solution to keep my sleeping pad from sliding down the hammock, leaving my back exposed.
After packing up I headed indoors to a warm cup of coffee, and a nice hot breakfast prepared my lovely wife.
Pretty pleased with this setup, I think I'll be trying it again in the lower teens or single digits when that time comes.
Thanks for reading,
Zach