Joined

Sep 18, 2011
Messages

11,988
Reaction score

1
(...most places it's listed as "Sixpence," but the text is split up on the label, so I'm gonna stick with that...)
One thing that's changed with me since I started writing these abominable and lengthy posts about tobacco I've just smoked is I don't like smoking one bowl and trying to decipher everything in one sitting.  
Can
I do it?   Sure.  I have a pretty damn good palate, tongue and olfactory thing going on.   Sometimes I'm spot-on, but I find myself later having to add other notes and thoughts, which means even less brevity.
At this point, "I just tried" is a personal, quaint tradition.
I've probably burnt through a half-dozen or that and a few more of complete bowls of Six Pence, some of them through a cob, and some of them through a pipe, which I feel is worth mentioning at this point.
Meet the keen Stanwell blast pot that was handed to me along with a bunch of nasty, green-stemmed basket pipes handed to me.   A regular at my local tobacconist no longer wanted them, and he knows I like refurbishing pipes.   He said he had no interest in restoring any of them, and if I didn't want them,  that I should pass them out to the newbies at the Tinder Box.   He also felt bad dumping such things on me, as the work alone was grunt labor for nothing.   I told him I felt that Stanwell was worth the price of a project: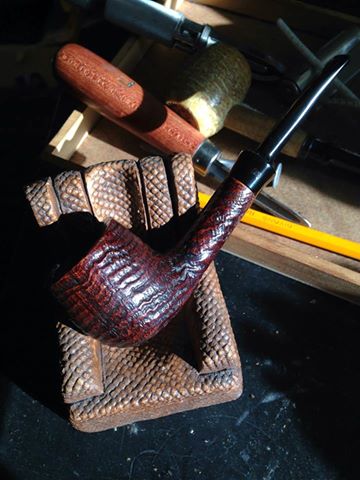 ...little did I know (but I had some faith), the pipe ended up being not only a real looker when all shined-up, but it took to Six Pence like a duck to water.   The cob lent itself not as elegantly, which surprised me.  
Six Pence features my nemesis, the dreaded Perique, which my senses interpret in the flavor category of a logger boot sole roasting on a camp fire, or chewing a hot glob of roofing tar.   Mr. Pease has a tendency to not skimp on the spicy stuff, and for that matter, knowing his penchant for selecting damn good leaf, I felt like a rube because of it.
The first pipe I loaded I was dubious as hell, yet Six Pence surprised me.  A lot.  The smell in the tin has a familiar
jena se quois
found in Navigator and Sextant, something plum-like, which rather than being a topping or a flavor, likely has something to do with Greg's ultra-secret way of doing the voodoo he do with dat leaf, mon.  
Six Pence is not a strong tobacco, even though it has the word "robust" attached to it as described elsewhere.  It is not spineless, either.  In nicotine strength, I'd comfortably place it in the same category as Union Square or even Embarcadero, however, in subtlety and complexity I'd have to say it's a lot like Meridian--not that Meridian is a perfect comparative, they are totally different tobaccos--but Six Pence is one of those mixtures that I don't think many could really understand by smoking one bowl.   When I first tried Meridian, I thought, "
...it's inoffensive, but nothing mind-blowing,
" but I couldn't stop smoking it.   By the end of the tin, I was dialed-in, and now it's among my favorite tobaccos.
Six Pence is going to be a journey like this.   The elegant, mellowness of the blend allows for easy smoking, interesting variations at each stage of the smoke, and enough Perique to tickle the tongue.   The Virginia in the blend holds everything together solidly.  There's a subtle sweet, springtime hay notion to it.  There's a hint of molasses, black pepper, even a yeast-like element.  This is a Bruce Lee tobacco, light (but serious), energetic and surprising, rather than an uppercut knockout from Evander Holyfield.  I have also decided it might do a little better in the warmer months.  More comes to me each time I smoke it...
...because I can't put Six Pence down.   Especially since I lucked out and managed to, at the same time, get a pipe
and
Six Pence, and they happen to get along.  Life is strange at times.
Is it possible I'm actually becoming a convert to Perique?  Not likely, but Six Pence will at least make me a pleased, smiling hypocrite along with less Cajun-y VaPers like Hal O The Wynd.  
As an unpaid and uncompensated fan of GL Pease products, any of my lofty appreciation has has nothing to do with bandwagon snobbery or the like.   If it does, I'm going to stick with my thoughts here, those of a happy customer, because something slightly different, unexpected and unique has been created by Greg--again.   Any questions I have lay within the leaf itself, not the missing puzzle pieces of my own expectation that will undoubtedly (and pleasantly) come together as I get to know Six Pence better.
While I'm shining up basket pipes for those in need, I'm looking forward to truly loving this tobacco, and the relationship is off to a great start.
8)